Introducing Intuit's Accountant Work Exchange 

A new service where it is free to post accounting, bookkeeping & tax jobs or projects and to search for people or job postings – either in your area or nationwide.  

It's only for accountants, tax preparers, and bookkeepers and offers participants a very precise way to find the people/projects they want to find.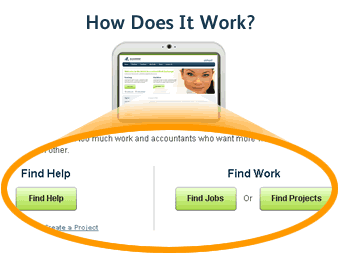 Post project work – you set the rates and the qualifications.

Search for qualified help – by
specialty or geography or both.

Increase your firm's
throughput – without
having to hire extra help.

Post a detailed profile of your capabilities, location and rates

And for any accounting or tax professional, we offer the chance to build a network with other accounting or tax professionals – local or nationwide.

It's free to join and build a profile or post projects or jobs – why not give it a try?